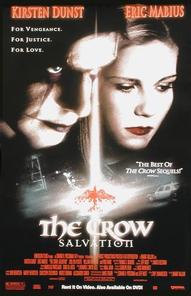 Alex Corvis (Eric Mabius) is back from the dead after receiving the electric chair for murdering his girlfriend, Lauren Randall (Jodi Lyn O'Keefe). In the guise of the Crow, Alex has returned in order to take revenge on the real murderer and to set the justice system straight. Lauren's little sister, Erin (Kirsten Dunst), risks a similar fate to that of Alex and Lauren, so the Crow's mission is especially urgent. Featuring an excellent soundtrack with music from Filter, Hole, and Tricky, THE CROW: SALVATION is a powerful third film in THE CROW series.
All movie descriptions have been borrowed from

Angel's Rating:
Not nearly as good as the original, but still pretty good. Has some great action scenes, but not the same strength of passion. I debated a lot between a four and a three on this one. Its a good average movie that carries on the Crow idea.
Disagree with my rating???
Click Here to let me know what you think of this movie, and I will post your opinion to this site.