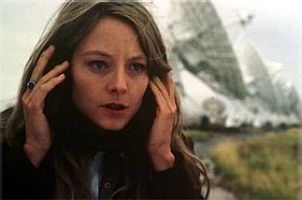 She's known it since she was a young girl, when she would magically connect with distant voices on her father's shortwave radio. She's known it since college, when she chose the search for intelligent extraterrestrial messages as her discipline. She's known it since she bargained for just hours a week of satellite time to sweep the heavens for evidence. And she knows it every time she stares at the countless stars dappling the infinite night sky... Something is out there.
All movie descriptions have been borrowed from

Angel's Rating:
An excellent movie if you like science fiction. An interesting take on the search for intellegent life that also questions how we judge those whose beliefs are different from our own. Overall I thought it was a good story, but it was probably better suited for a novel.
Disagree with my rating???
Click Here to let me know what you think of this movie, and I will post your opinion to this site.