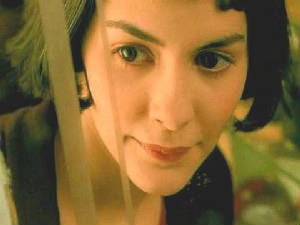 2 hrs. 00 min. Amelie is a young Paris waitress who discovers an old box of childhood treasures hidden beneath her apartment floorboards, anonymously returns it to its rightful owner and watches from a distance as his life is transformed by the discovery. Thus begins her odyssey: a series of inventive plans to straighten out other people's lives. Almost as if by magic, Amelie begins to transform the lives of her ordinary neighbors - mostly for the better if they've earned it and occasionally for the worse if they deserve it - but she always hides behind a veil of mystery and anonymity. This works for her until she meets an intriguing young man named Nino. Now the question is: will she have the courage to do for herself what she has done for others?
All movie descriptions have been borrowed from

Angel's Rating:
This is one of those movies for people who don't mind subtitles like me. I think this is an absolutly adorable movie full of comedy, wit, romance, and originality. It brings out the part of you that wishes you could go back in time and do something you didn't have the nerve to before. Its a little hard to follow at first, but a must see.
Disagree with my rating???
Click Here to let me know what you think of this movie, and I will post your opinion to this site.